About Rob and His Computer Experience
I have been working with computers since 1994 and completed my Computer Science Degree at Newcastle University in 1996. From there I completed a Diploma of Theology at Tahlee Bible College while also assisting in computer diagnosis and repair for the College Library. At the completion of my Diploma my wife Jenny (nee Crooks) and I stayed at the College to work for Tahlee Ministries. One of my major responsibilities was maintenance and upgrade of the information technology facilities at Tahlee.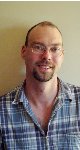 In 2001 we left Tahlee and moved to Ipswich where I registered for an Australian Business Number and commenced business as a sole trader, trading here for over 3 years. Tahlee then asked us to return to work for them, so we went back, (with a 1 year old son) and I commenced work as Systems Manager, Adminstration Assistant and Events Coordinator. During this time at Tahlee I was was involved in the implementation of an extensive Local Area Network (around 1km of underground cabling and associated building cabling), construction of a site firewall, the Tahlee fileserver and a major upgrade to the Library software. All this continues to serve Tahlee's staff, students and visitors to date. Our first daughter was born during this time, and in September 2006 we returned here to Ipswich for medical reasons.
From 2006 I resumed my Computer Assistance business in Ipswich and we now have a second and third daughter added to our family. With the health of our children improved, I have begun a more active promotion of my services and constructed this website. In early 2012 we began considering the move to Gundagai, and made the move for June 2012. More can be read about how this came about here.
I am working (part time and as time allows) on a number of web and web related projects which can be viewed through this link (see the projects page).
How can I help you?